CLIVE R. HAYNES FRPS
WORCESTER
Past & Present
| | |
| --- | --- |
| Latest Hardcover Book | Latest Video |
| | |
| --- | --- |
| | |
Latest Softcover Book
'The Worcester Book'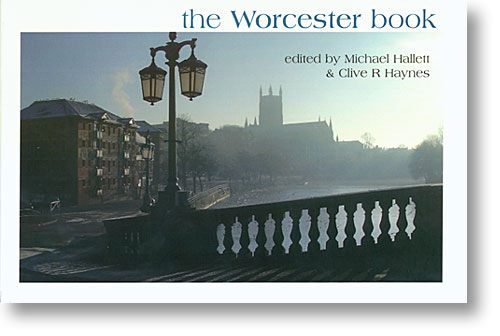 Clive Haynes & Michael Hallett joined forces to edit this book which records life in the City of Worcester over the period of a year
September 2002 to September 2002.
It's the work of 30 photographers - all Mature Students attending Photography and/or Photoshop courses at the Adult Education Unit of Worcester College of Technology.
The result?
Over 340 superb colour photographs of the city, in wide-view and in detail and even the occasional excursion.
It's a book by Worcester folk, about Worcester folk.
Everything from major occasions to the minutia of everyday life, from the picturesque riverside and cathedral to colourful Jubillee street parties and from the city's youth to city parks and local characters.
Close-up's and panoramic views of the changing scene
'THE WORCESTER BOOK'
A 'landmark in history' -
A series of moments in time captured for posterity
A contemporary record of the city.
Plus informative historical text
Books and Video both available from the author or the publishers
Book: 'Worcester Within the Walls' £14.95 plus p&p
Book - also direct from publisher Osborne Books of Worcester
Video: 'Worcester Remembered' £12.99 plus p&p
(Also NTSC version available for USA & Canada)
Video - direct from Video by Design
Book: 'The Worcester Book' £9.00 (plus p&p if applicable)
Also available from shops in Worcester
(including, The Learning Shop, The Cross Worcester
Tel 01905 726002)
Direct - from The Adult Education Unit